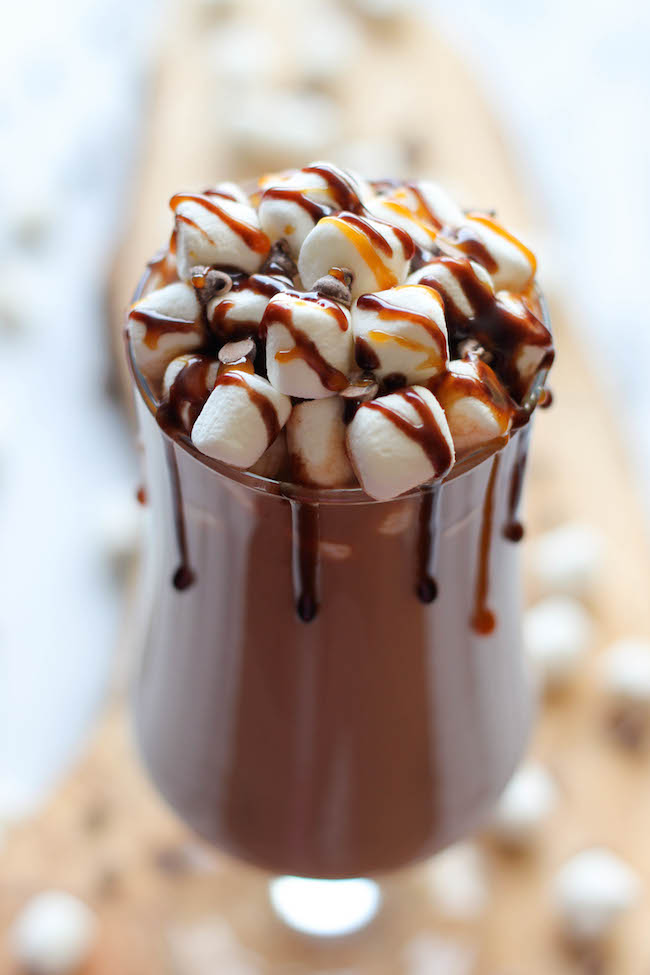 With homemade hot chocolate, you can control the sweetness and indulgent chocolate levels to taste – the boxed mix is always a little too strong for me. But the best part about the homemade version is the Kahlúa! Yes, this is strictly an "adults only" drink. Just add a splash of Kahlúa to your piping hot chocolate and you'll have a cozy, grown-up hot chocolate. And you can't forget about those marshmallows slathered in salted caramel and a drizzle of melted chocolate. I mean, that's the only way to have hot chocolate, right?
And with the holidays right around the corner, you could even gift this to friends and family. Simply combine the dry ingredients and throw them into a cute jar with a ribbon and you're set. It doesn't get easier, or cheaper, than that!
INGREDIENTS:
2 cups milk

2 tablespoons sugar

1 1/2 tablespoons Dutch-processed unsweetened cocoa powder

1/4 teaspoon cinnamon

Pinch of nutmeg

1 ounce Kahlúa coffee liqueur

Mini marshmallows, for serving

Salted caramel, for serving

Chocolate syrup, for serving
DIRECTIONS:
In a medium saucepan, combine milk, sugar, cocoa powder, cinnamon and nutmeg over medium heat until heated through, about 2-3 minutes. Remove from heat and stir in Kahlúa.
Serve immediately, garnished with mini marshmallows, salted caramel and chocolate syrup, if desired.