This cake...
I am sorta kinda totally obsessed with it.
It's fabulous for so many reasons!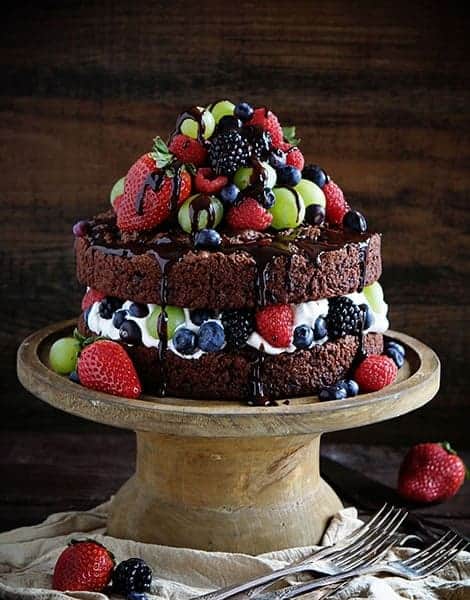 The first being is that… well, the beauty of a Naked Cake. You can see the fluffy whipped cream and glorious fresh fruit and sweet drizzle of a rich chocolate sauce.
The second is that is it low in processed sugar. Chocolate and fruit are the main flavor contributors, meaning I can enjoy a piece,
or two
, without the guilt.
Ingredients
1/2

cup

coconut oil

1

cup

mini semisweet chocolate chips

1/2

pint

fresh strawberries

1/2

pint

fresh blackberries

1/2

pint

fresh blueberries

2

big bunches of green or red grapes

1

pint

raspberries

1

homemade whipped cream recipe (you can decrease sugar if you prefer)

Store-bought chocolate syrup

3/4

cup

milk (I prefer whole, but skim milk will work fine)

1/2

cup

good-quality cocoa powder

1/2

teaspoon

sea salt

1/2

cup

brown sugar

1/4

cup

applesauce

1

egg

3/4

cup

vanilla yogurt (you can use Greek yogurt)

2

teaspoons

vanilla extract

2

cups

whole-wheat flour

2

teaspoons

baking powder

1

teaspoon

baking soda

1

tablespoon

confectioners' sugar, optional
Instructions
Preheat oven to 350 degrees F and prepare (spray or butter and flour) two 8-inch round cake pans.

Warm the coconut oil in microwave for up to 30 seconds; you want it softened or even melted (but not hot to the touch).

Pour coconut oil into stand mixer with paddle attachment.

Add in brown sugar, applesauce, egg, yogurt and vanilla extract, and mix until combined.

In a separate bowl sift together flour, baking powder, baking soda, salt and cocoa powder.

With mixer on low, slowly add a third of the dry ingredients into the applesauce mixture, alternating with the milk. Keep alternating until the dry ingredients and milk are gone.

Remove bowl from stand mixer and fold in chocolate chips by hand.

Divide batter between two cake pans. Bake at 350 degrees for 22 to 26 minutes or until an inserted toothpick is removed clean. (Cooking times can vary depending on quality of ingredients and weather conditions.)

Cool cakes in pan for 5 minutes and then transfer to wire rack.
To assemble cake:
Rinse all fruit so that it is shiny and clean.

Prepare whipped cream (and prepare chocolate sauce if you are making from scratch).

Place one cooled layer of cake on cake stand and cover in about 3/4 cup of whipped cream.

Place a strawberry that is a about 1 to 1 1/2 inches high in the center of the cake, upside down. This will help the whipped cream to not schmoosh out when you place the next layer on.

Now take some of your fruit and spread it around the edges of the cake. Because this is a naked cake, you will want to pay attention to how you place the fruit on the edge.

Once cake is covered in fruit, place next layer of chocolate cake on top. Starting with a bunch of grapes that are still attached to the vine, place grapes on cake and then start building up around them. Fill in with blueberries, raspberries and blackberries, and place a few more grapes around to balance the color.

Finally, place some strawberries around the edge and maybe even one on top.

Drizzle chocolate sauce over cake and chill until ready to serve. If you want to add confectioners' sugar, sprinkle immediately before serving.