THIS RECIPE FOR

STRAWBERRY MANGO AGUA FRESCA

IS A LIGHT AND REFRESHING FRUIT DRINK THAT ONLY TAKES 15 MINUTES TO MAKE, IT'S THE PERFECT WAY TO COOL OFF ON A HOT DAY!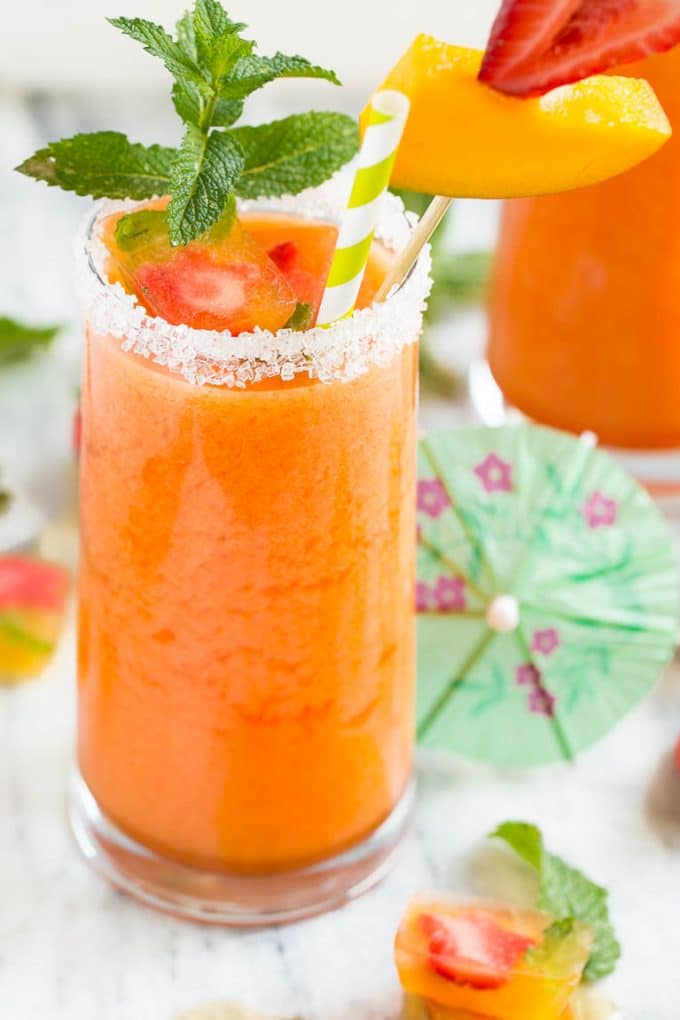 If you haven't tried agua fresca before, it's a drink where fresh fruit is blended with water and sugar to make a delicious and refreshing treat. When I was younger my parents would take me to this Mexican restaurant nearby where they always ran a special burrito and drink combo meal. They would have giant jugs of homemade agua fresca and the flavors changed all the time – I would get my burrito and pick my flavor of agua fresca. That restaurant went out of business a while ago but ever since then I've loved agua fresca. I decided to introduce my kids to this fun drink, but with a little twist. Instead of blending my fruit with plain water, I used tropical citrus flavored

vitaminwater

.
I used fresh ripe mango and strawberries but you could use frozen if need be, if you do you'll probably need to increase the amount of honey in the recipe. For fun, I also made ice cubes with my tropical citrus vitaminwater and added fresh strawberries and small mint leaves. That way when the ice cubes melt, it won't water down the flavor of the drink.
To make this
strawberry mango agua fresca
drink even more special I decorated the glasses by dipping the rims in water and then in sugar – my girls had never seen that before and they thought it was pretty much the coolest thing ever!
For the drink

1 20 ounce bottle of tropical citrus vitaminwater

1 cup strawberries, cut into quarters

1 cup diced mango

1 tablespoon honey (or more to taste)

1 tablespoon lime juice (or more to taste)

Strawberries, mango slices, mint springs, lime wedges and coarse sugar for garnish (optional)

For the ice cubes

¾ cup tropical citrus vitaminwater

12 small mint leaves

12 small pieces of strawberry
For the drink:

Combine the vitaminwater, strawberries, mango, lime juice and honey in the blender. Blend until completely smooth. Taste and add more lime juice or honey if needed. Pour the drink through a a strainer, discard fruit pulp. Add vitaminwater ice cubes. Decorate the glasses with the fruit, lime wedges and mint springs. To create a sugar rim on your classes, dip the tops of the glasses in water and then into a bowl of sugar.

For the ice cubes:

Pour 1 tablespoon of vitaminwater into each well of a 12-count ice cube tray. Add a piece of strawberry and mint leaf to each one. Freeze until solid.