This stew is satisfying enough all on it's own. But I like to serve it over rice to make it extra hearty. You can cook up the rice while the stew is cooking. But day old rice is great here too!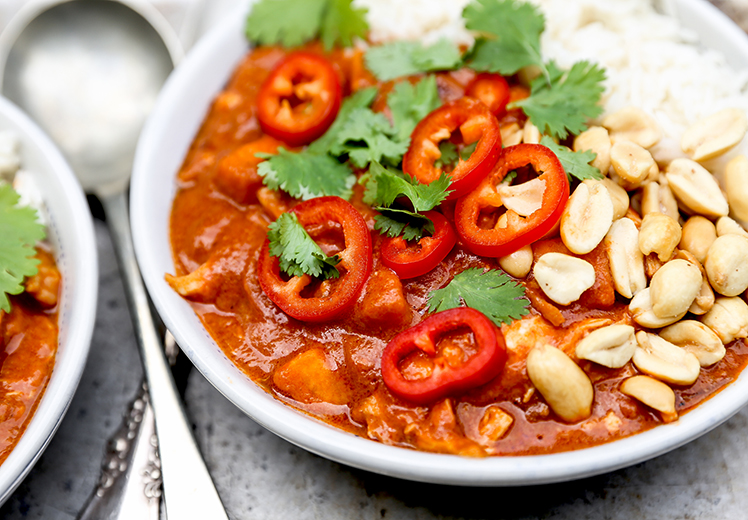 This African Peanut Stew with Chicken and Sweet Potatoes is just what the doctor ordered. I know you're probably thinking it's next to impossible to make a rich, flavorful stew in 30 minutes. But I'm here to tell you that it's totally doable thanks to one of my favorite kitchen shortcuts: a rotisserie chicken from the grocery store. Those things are magical. Embrace them.

Also, make sure you use a nice big pot for increased surface area and faster cooking. It totally makes a difference.
For the Stew

2 tablespoons vegetable oil

1 cup diced onions

2 cups peeled and diced sweet potatoes

1 tablespoon minced fresh ginger

2 garlic cloves, peeled and minced

6 ounces tomato paste

1/2 tsp. ground coriander

1/2 tsp. ground cumin

1/4 tsp. salt

1/4. tsp. cayenne pepper

4 cups chicken stock

1/2 cup peanut butter

3 cups cooked shredded chicken

For Serving

Cooked rice

Fresh cilantro, roughly chopped

Sliced peppers (either hot or mild)

Peanuts
Warm the vegetable oil in a large pot over medium-high heat. Add the onions and sweet potatoes and cook for 5 minutes, stirring occasionally. Add the ginger, garlic, tomato paste and spices. Cook for 2 minutes, stirring constantly. Add the chicken stock and peanut butter. Bring the stew to a low boil. Cook, uncovered, for 10 minutes, stirring occasionally to prevent the stew from scorching at the bottom and to help incorporate the peanut butter. Stir in the shredded chicken. Remove the stew from the heat and set aside.

The stew can be served alone. Or you can ladle it over warm rice. Top with fresh cilantro, peppers and peanuts. Enjoy immediately.

Leftovers can be store in an airtight container in your refrigerator for 2-3 days.