This is a traditional Mexican home recipe for beef soup (Caldo De Res).
This is an extremely hearty and satisfying soup. The hind shank flavors the broth beautifully as does the marrow in the bones. Garnish with slivered raw onion, lime juice, tortilla, and more cilantro.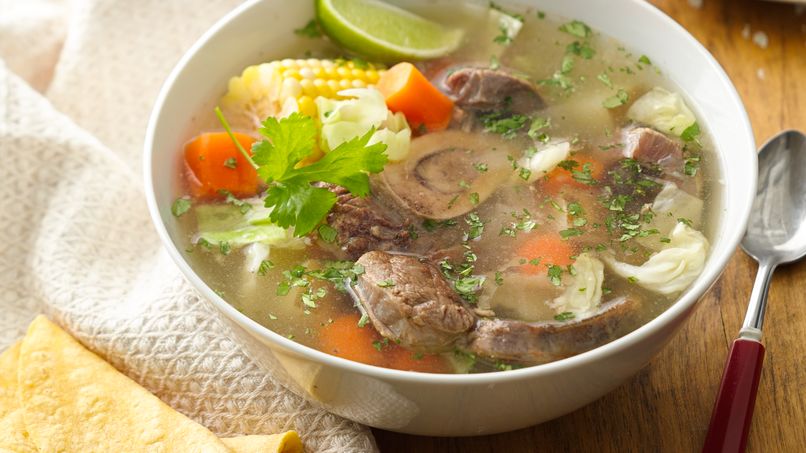 Ingredients
12

cups water

2

lbs beef shanks with bone

1

bulb of garlic (head of garlic)

2 bay leaves

2

to 3 tablespoons salt

4 w

hite potatoes, chopped into 1 inch cuts

3

Serrano chiles, roughly chopped

1

small white onion, diced

4

carrots, sliced thick

3

ears of corn, cut into 9 pieces

4

cups green cabbage, cut into 1 inch pieces

1/2

cup chopped cilantro

16

corn tortillas, if desired

1

large lime, cut into wedges, if desired
Instructions
Step 1 : In a large, heavy pot, add 10 cups water, beef, garlic, bay leaves, and 1 1/2 tablespoons of salt. Bring to a boil, skimming the top when needed. Cover, reduce heat and continue cooking 1 1/2 to 2 hours or until the meat becomes tender.
Step 2 : In a blender, add the Serrano chiles, 1/2 teaspoon salt, and 1/4 cup water, blend until smooth, set aside.
Step 3 : Once meat becomes tender, remove bay leaves and bulb of garlic. Add potatoes to the pot, along with the onions, carrots and corn. Add the remaining 2 cups water, taste the broth for salt and season to taste. Bring up to a boil, reduce heat and continue cooking until potatoes are fork tender.
Step 4 : When potatoes are tender, remove the corn and meat from the soup, transfer to a large bowl, cover to keep warm.
Step 5 : Add cabbage and 1/4 cup of cilantro to the soup. Cook for just another 15 to 20 minutes, until cabbage becomes tender, but is still crisp. Remove soup from heat and let sit for 15 minutes. Warm the corn tortillas on a hot comal or griddle and keep warm in a tortilla warmer.
Step 6 : Divide the soup into 8 bowls. Add corn and some of the meat to each bowl. Garnish with lemon wedges, cilantro, and Serrano salsa for some added spice.
Step 7 : Serve with warm corn tortillas, if desired.