THIS RECIPE FOR

MOO GOO GAI PAN

IS A CLASSIC DISH OF CHICKEN AND VEGETABLES STIR FRIED WITH A SAVORY SAUCE. PLUS SECRET TIPS ON HOW TO MAKE YOUR STIR FRIES TASTE LIKE THEY CAME FROM A RESTAURANT!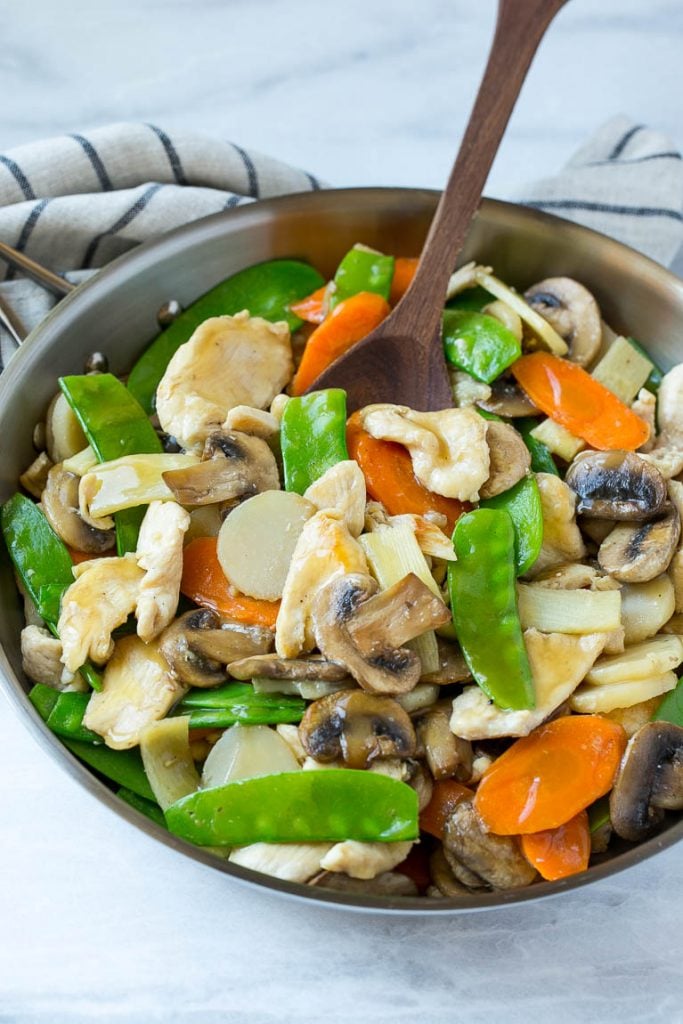 Have you ever ordered

moo goo gai pan

at a Chinese restaurant? It's a simple

chicken and vegetable stir fry

that's super flavorful and also on the healthier side. I first tried moo goo gai pan about 15 years ago while on a date with my now-husband. I had never had it before but he insisted we order it and I'm glad that he did.
Moo goo gai pan is essentially chicken with mushrooms, along with some other veggies that seem to vary depending on who is preparing it.
The sauce for this moo goo gai pan recipe is so incredibly simple, but it really ties all of the flavors together nicely. Serve this moo goo gai pan with a side of rice and skip the take out menu tonight!
Ingredients
1

pound

of boneless skinless chicken breasts, thinly sliced

1

large egg white

2

tablespoons

+ 1 teaspoon of cornstarch

divided use

1

tablespoon

vegetable oil

divided use

2

teaspoons

minced garlic

1

teaspoon

minced ginger

2

cups

of sliced mushrooms

1

cup

of snow peas

1/2

cup

of thinly sliced carrots

1

8-ounce

can of sliced water chestnuts

drained

1

8-ounce

can of sliced bamboo shoots

drained

3/4

cup

chicken stock

1 1/2

teaspoons

sugar

1

tablespoon

soy sauce

1 1/2

teaspoons

sesame oil

salt and pepper to taste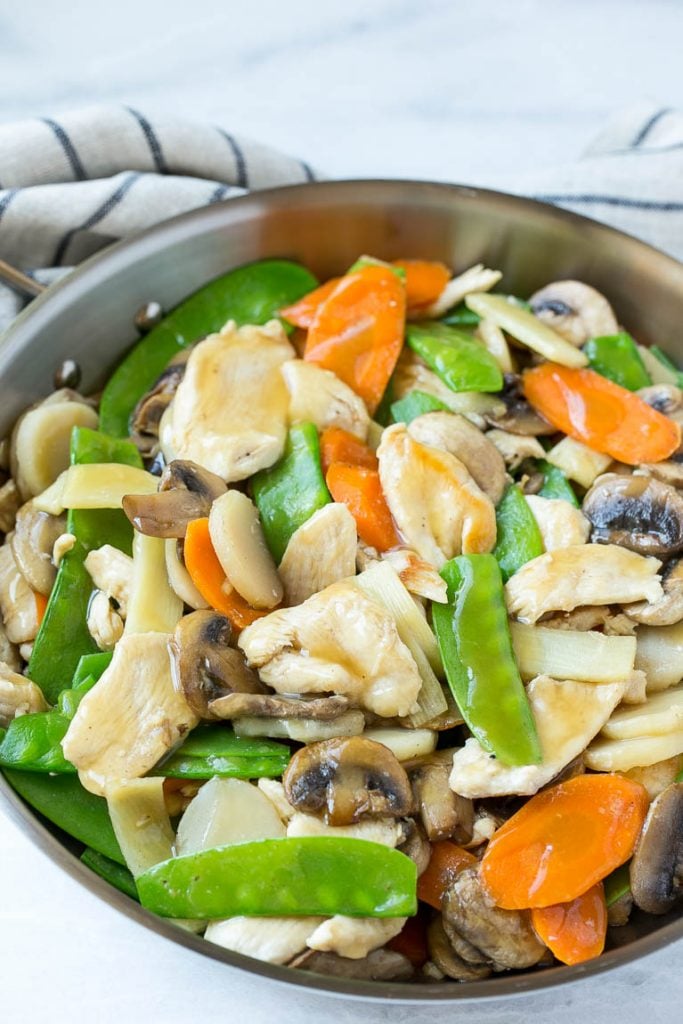 Instructions
In a medium bowl whisk together the egg white and 1 tablespoon of cornstarch. Add the chicken slices and toss to coat. Refrigerate for 30 minutes, then strain and discard any excess liquid.

In a large saucepan, heat 1 teaspoon of oil over medium high heat. Add the carrots and 1 tablespoon of water and cook 2-3 minutes, stirring constantly.

Add the mushrooms and cook for 3-4 minutes or until mushrooms are browned and tender.

Add the snow peas and cook 1-2 minutes more or until tender. Stir in the water chestnuts and bamboo shoots. Season the vegetables to taste with salt and pepper.

Remove the vegetables from the pan and place on a plate. Cover the plate with foil to keep warm.

Wipe out the pan with a paper towel. Heat the remaining 2 teaspoons of oil over medium high heat.

Add the the chicken to the pan and season with salt and pepper to taste. Cook, stirring occasionally, until chicken is cooked through, 3-4 minutes. Add the garlic and ginger and cook for 30 seconds more.

In a small bowl whisk together the chicken stock, sugar, soy sauce and sesame oil. Whisk in 1 tablespoon + 1 teaspoon of cornstarch.

Add the vegetables back to the pan and heat through, approximately 1 minute. Pour in the sauce and turn the high to heat. Bring the sauce to a boil and boil for approximately 1 minute or until sauce has just started to thicken, stirring occasionally.

Serve immediately, over rice if desired.